By Cheryl Griffin.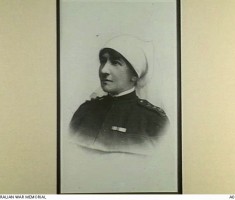 Portrait of Miss A. M. Prichard RRC, matron of 42nd British General Hospital which was one of the four hospitals at Salonika staffed by the AIF. (Image Courtesy AWM. Image A01891)
Alice Prichard hailed from the north of Victoria and had been the Matron of Mildura Hospital prior to enlistment. Her sister Florence also served as a nurse and had previously been head nurse at Albury Hospital. Four brothers (Frederick, Leslie, Charles and Richard) also served in the war, so  their mother, Mary, of 'Greenvale', Glenrowan must have had a very anxious time.
During a brief return to Australia after the Gallipoli campaign, Alice Prichard served as Matron of the Glenroy Hospital. (She was a trained infectious diseases nurse.) She then returned to the war front. After discharge, she moved to Sydney to work.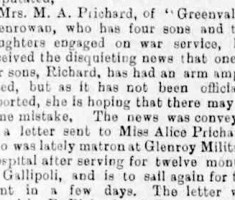 From the Benalla Standard, 26th June 1917