The Moreland Quilt was a community arts and storytelling project curated by Tamara Russell, a textile artist specialising in free machine embroidery and hand stitching.
The panels in the quilt record local stories, culture and history though imagery, colour and fabric.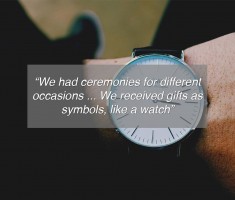 My parents came from Wonthaggi in the depression as there was no work in the town.  Their parents gave them 100 pounds, which was a lot of money in the day so they could buy a milk bar on Sydney Road.  The small shop kept us all through the Depression years.  At that time we were a family of 4.
During this time there was a lot of poverty and hunger in Brunswick.  The only work for many of the men was to work for the government on road building and other infrastructure projects.  The work was very scarce and so most men only managed to get one or two days a week of work.  My parents had a gentleman come in one day to pay his bill saying this was possibly the last time as they had no money at all left.  Next day he went to work for the dole only to come home to find his wife and two children dead in bed.  His wife had been giving him all the food to ensure that he was able to work for the little money he received.  A lot of local families died over these years.
***
I have lived in Brunswick for a very long time.  We bought our house for $28,000 and have lived there ever since.  It probably isn't what people would want to live in today but we have made it our own.  Our toilet is still outside!  We had 6 children here and they all shared bedrooms.  We didn't have much money but always had food on the table and enjoyable times to share. My children went to Moreland Primary school and then Moreland High School.
***
I moved to Brunswick 3 years ago and love it.  We bought an old Victorian cottage and have enjoyed restoring it to its former glory.  I love the plaster cornicing and ceiling roses and the wonderful ceiling heights.
Brunswick is such a vibrant place to live.  So many great places to eat and shop for food.  As an artist I find the arts community very welcoming and love that there are still so many artist's warehouses here.  It will be a shame if they are allowed to redevelop so many into apartments.  It is wonderful to wander the streets and so often people will stop to chat.  My dog loves that so many people will pat her too!
The galleries are great to visit too, Tinning Street, The Honeymoon Suite, Counihan and Noir Darkroom.  I look forward to MoreArt each year too to see what some artists are doing.
***
I moved here when I went to uni with a group of friends.  We share a house in Brunswick it's such a great place, close and easy to get to uni and great places to hang out. I am trying to reflect the fun of living here in my piece.  I have a strong interest in the environment and it's great to see the regeneration happening in Moreland.
***
My first connection with Moreland was when my company moved to Brunswick for 5 years.  The area struck me as quite an exciting and vibrant environment to work in.  The sights, smells and happenings were always so interesting when I came out of the office.
***
Quilting may not be my thing but I like to be involved in community projects. I am enjoying learning a new skill and meeting such lovely people.  I sing in the Brunswick Choir and love the camaraderie.
***
I don't live in Moreland anymore but I grew up in Brunswick and my parents still live there.  I have lots of childhood memories of being picked up from Brunswick East Primary and walking down to Gelo Bar for an ice-cream. I lived in a Federation House where my parents still live. I went to Uni High which had an accelerated program. My father went to Rural North School in North Melbourne which was originally attached to the University where the lecturers' children went.
East Brunswick Primary was a very nice school to go to.  Great teachers and we always participated in the Kingfisher Festival at CERES. It was always great fun. I also went to Friday school every second Friday which a group of 5 or 6 families set up. After Kennett there were no excursions at schools due to funding cuts.  Every second week I went to East Brunswick 4 days and had Friday school 1 day.  As parents were happy for us to do participate the school didn't object as it meant that they had smaller classes for the day.  Classes had become so large at that time.
Friday school had 3 different groups for different age groups and each was quite small.  One parent would take the group each time and would teach us their different skills. For example one parent was an astro-physicist, another a doctor, another an artist. Annalivia Carli Hannan who is on the Council now was one of the students too.  Her dad Carlos Carli was our local MP and he took us to Parliament House one time so we have photos sitting in the Speakers Chair as little 5 year olds.  We went to some great places like the Harbor Master office and looked around the wharfs, to the Australian Tapestry workshop, Melbourne Hospital, to the sandstone cuttings near the zoo, Merri Creek and many others.  I think when I have kids I will try to set up something similar if I can work with the schools.
We had ceremonies for different occasions like starting Primary School or High School. We received gifts as symbols like a watch to take responsibility for being on time, a key to the house to take responsibility for one's self.  It enabled our milestones to be recognized and taught us the importance of being part of the community.  It was also nice to have the connection with adults other than your parents.
***
I've been in East Brunswick since 1981.  I really like the Art Deco architecture around Lygon Street and the Child Health Centre on Lygon Street along with the Art Deco apartments opposite.  There are so many great landmarks including the Freedom of Speech Monument.  They pull buildings now illegally like the art deco office on Lygon Street which is just an empty block now.  It was good that they made them keep the art deco face of the TipTop Bakery.  There are others scattered about but they really need to make people keep more of our history.  Developers paint them or leave them on the hope that they will fall down.  It is sad to see that our surroundings are allowed to be altered so dramatically.  As we become more gentrified people come from outside the area and don't know the old history.  But then I suppose they create new history. Some of the architecture down Sydney Road is so lovely.  Hopefully the heritage overlays will help keep our heritage.
We moved to Moreland as we were looking for a house and couldn't find anything in the newspaper real estate ads. One day I looked in the business section and a person who was working with a hotel had put the ad for the house there as they had a company account.  When we went along to see the house we asked how much it was and the man said 'make us an offer' so we said $34000 and he said fine.  He couldn't care about this little wooden house as he was used to selling hotels.  It was amazing and now it is a millionaires row! And near lots of parks which is lovely.
Our house didn't have a bathroom so someone turned part of the back verandah into a loo and then when the last owner came they put a shower in the loo so you couldn't open the door properly.  The loo had an old wooden seat which was really heavy just sitting on the top of the ceramic loo with a shelf for putting your cut up newspaper to wipe with.  It had an old overhead cistern.  We have a proper bathroom now! The great thing about Brunswick is that people have come from so many places.
Lots of the old iron you see around in front fences or the 'lacework' on houses came from the foundry in Coburg and the bricks from the local brickworks.  There used to about 160 brick works in Brunswick in the early 19th Century.  Government House was supposed to be built in West Brunswick but they found the clay there was so good for brick making that they built it on the other side of the Yarra on the rocky land instead.  Lucky for us or we couldn't have afforded to live here!
We rented in Brunswick to save up to buy the house.  I was a teacher here.  There was a lot of poverty then.  Brunswick means a lot to me but the united Moreland doesn't really.  The merger in the early 1990's wasn't very popular we liked having our local council.  Counihan and two others were very much part of Brunswicks history.  They had a cart with a cage and one was in the cage talking which broke the rules of the time.  The police would chase them up Sydney Road. –
Patrick round the road from us in French Ave was an old wharfy and a Marxist. He'd be in his 90's now.  He was a friend of Maisey Glew who was the granddaughter of the Glews who had a foundry here. He belongs to the historical society and is responsible for the 'Books' in the Brunswick Library local history collection.
Kennett shut down so many schools and got rid of a lot of teachers.  So much of the land is gone now as it was sold off to developers.  It is such a shame as now we need more schools and there is no land to build them.  We used to have 3 high schools / technical schools in Brunswick.  We had Brunswick Tech, Brunswick East and Brunswick High.  The Brunswick Community School has a very good reputation and is a lovely small school.  They had a lovely garden and it was a school with a wonderful community.   Westwick on Hunter Street West Brunswick is now converted into an eco-friendly estate. Mike Hill who used to be Mayor of Brunswick bought it with some other people.
***
I came to Brunswick from Sydney. I love city living but Sydney was just too expensive to buy real estate.  I had been getting to know the area of the past 18 months walking my dog around but sadly he passed away.  This is a better city than Sydney.  It is so much friendlier and takes about 30% less energy to live in.  It is great that people still talk to you on the street and people here will help you which is really sweet.  It is a real rarity in Sydney for people to offer help.  It is great that people will still just have a conversation with you on the tram or in a shop.  People seem so much less rushed here.